MOMO Steering Wheels
What we learn on the racetrack we further develop for the road. Learn more below about our steering wheels.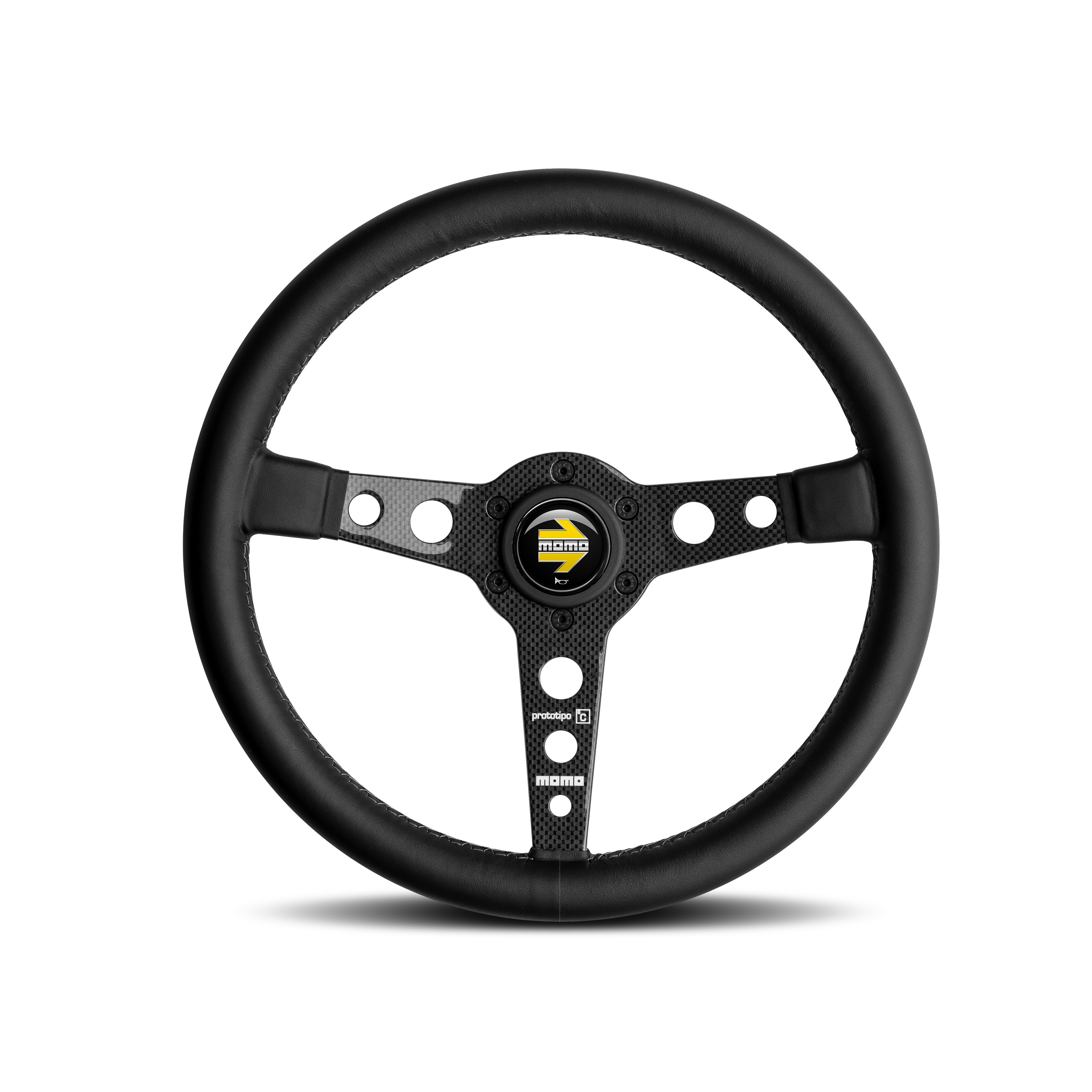 Prototipo - 6C
Description
Price incl. VAT

Prototipo 6C, the most innovative and refined steering wheel currently produced by MOMO: the spokes are coated with genuine carbon fibre and high quality leather, selected piece by piece from the best suppliers. Uncompromising quality.

The motorsport seams are another example of the incredible craftsmanship perfection of this truly exclusive product.
Diameter: 350 mm
Grip Section: 30 x 29 mm
Dish: 39mm
A Momo hub is required for installation.
379,00 €
California - Wood
Description
Price incl. VAT

The Heritage California wood steering wheel features elements reminiscent of MOMO's early Ferrari and Porsche designs. This steering wheel with the legendary MOMO logo features a mahogany handle with finger grooves at the rear and characteristically polished spokes.

Mahogany wood with round contrast screen printing.
Matt gloss with rear finger grooves.
Signature polished spokes.
Diameter 360mm
Grip Section 24 x 26, 50 mm
Dish 34,5 mm
A Momo hub is required for installation.
407,00 €
Zur Montage der Lenkräder eine MOMO Nabe benötigt wird und das nicht alle Lenkräder über eine ABE verfügen.
Zur Montage in Ihrem Fahrzeug, benötigen Sie eine entsprechende MOMO Nabe. Bitte kontakten Sie uns um die für Ihr Fahrzeug benötigte Nabe herauszusuchen. Nur einige der abgebildeten Lenkräder verfügen über eine ABE.
Alle Preise verstehen sich pro Stück, inkl. Standardzubehör und der gesetzlichen MwSt.. Sonderzubehör wie Nabe berechnen wir mit einem Aufpreis. Schreibfehler und Änderungen vorbehalten. Aufgrund der grossen Formendichte, können wir niemanden von Rechten Dritter freistellen.